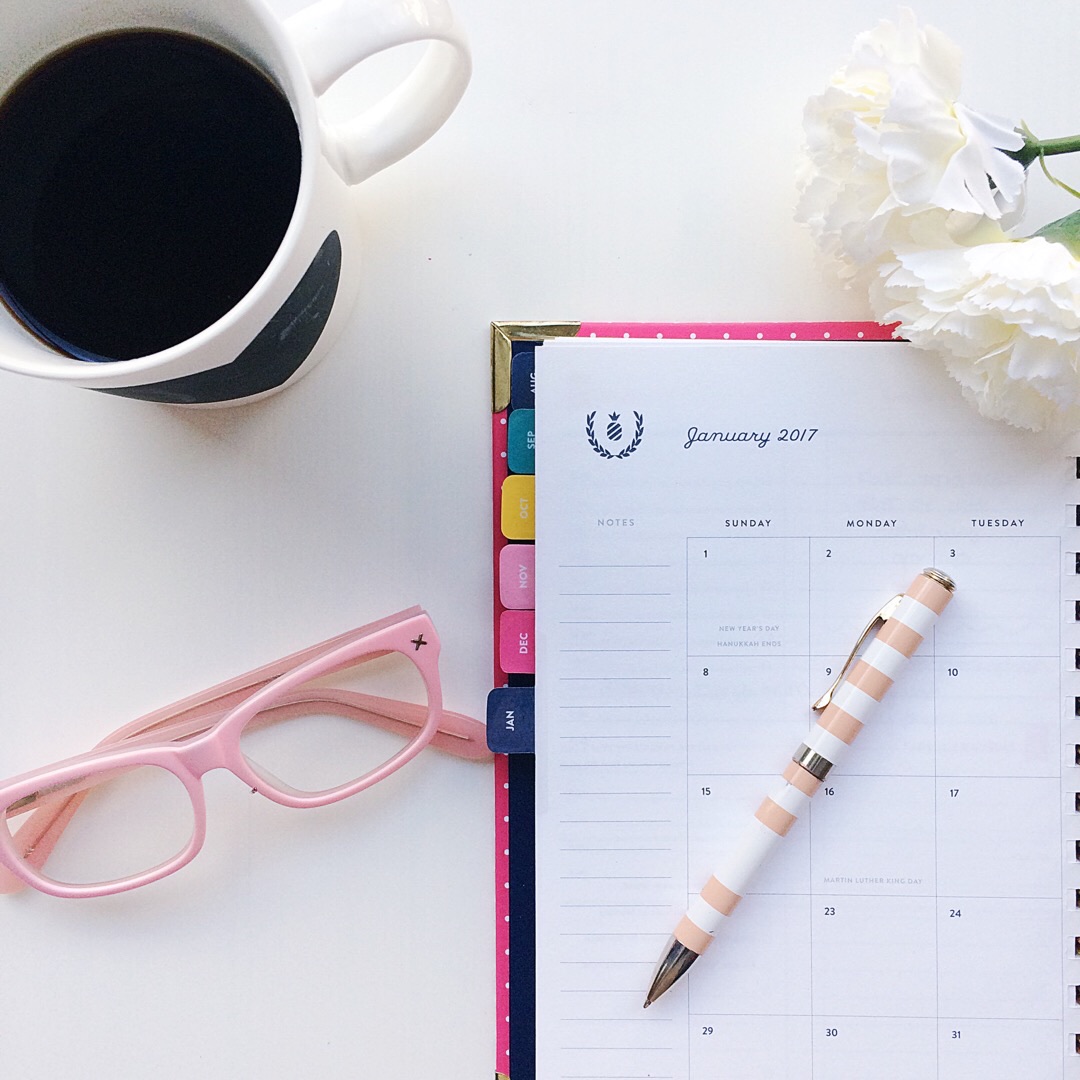 ---
Happy New Year everyone! I hope you all had a lovely holiday and are having a great start to your new year! Although the weather can be a bit dreary this time of year, January is the month of fresh starts and clean slates. It's the time of year where your mind is racing with new ideas, goals, and adventures. It's the time for making "new year, new me" resolutions because why the heck not?! But if all these resolutions and goals and ideas have your head spinning, do not fret. Let's simplify things.
Here are 3 tips for goal setting in 2017:
Get organized and buy yourself a good planner. You won't regret it.
Having a good planner is a complete game changer when it comes to goal setting. I like writing down my goals in a different colour than the rest so they stand out and are easy to read. Writing your goals down in a planner keeps you more accountable for the things you want to achieve and you're more committed as opposed to using a sticky note. I swear by the Simplified Planner by Emily Ley because of it's simplified design and functionality. I'm also a fan of Rifle Paper Co., Day Designer, and of course Kate Spade New York.
Break down those big, scary goals into smaller, baby goals.
So you have a list of goals you want to achieve in the next year, but where the hell do you start? The best way is to break your goals down into smaller, simpler goals. Smaller goals are less intimidating for us to accomplish which helps boost our self-esteem and helps get us closer to the end goal. For example: if your goal is to start a blog, give yourself a list of smaller goals such as finding a niche, picking a name, choosing a platform, brainstorming topics, researching your audience, creating a marketing strategy, etc. All of these things are smaller goals that contribute in a big way to your ultimate goal.
Reach out to like-minded people and communities for support.
Some of my hardest goals were made possible simply because I reached out for support. Not to mention, Facebook is exploding with groups that you can join full to the brim of likeminded people. Whether you're looking for cross-fitters, bloggers, knitters, business experts or photographers, you will more than likely be able to find a support group on Facebook. It's really helpful to have a community that you can interact with, ask for feedback, and push yourself towards bigger things. Some of my favourite creative groups are Melyssa Griffin's Blog + Biz BFF's, Wholehearted Woman, and Allison Marshall's Creative Superheroes.
You're now equipped with 3 tips to help with goal crushing in 2017 and I have all the trust that you will absolutely kill it. Comment below and tell me what some of your biggest goals are for the new year, I'd love to hear them!